SATs Results
Read Academy's first set of pupils took their KS2 SATs in May 2016.
Alhamdulillah the results are really something to celebrate.
SATs results overview
Pupils took SATs tests in Reading, English: GPS (grammar, punctuation and Spelling) and Maths. These tests were the first ones to reflect the new primary curriculum introduced in 2014. The new standard is much higher than the old one and nationally fewer children have met the new standard than the previous one.
However, with the blessings of Allah subhaanahu wa ta'ala and the hard work of pupils and equally hard work and dedication of teachers at Read  Academy, as you can see below, in the academic year 2015-2016 100% of pupils at Read Academy achieved working at the expected standard or above.
Our pupils have performed exceptionally well Mashaa'Allah and received this achievement  despite the changes to the curriculum and assessment being ramped up.
Number of Pupils Achieving National Expected Standard or Above in KS2 SATs 2016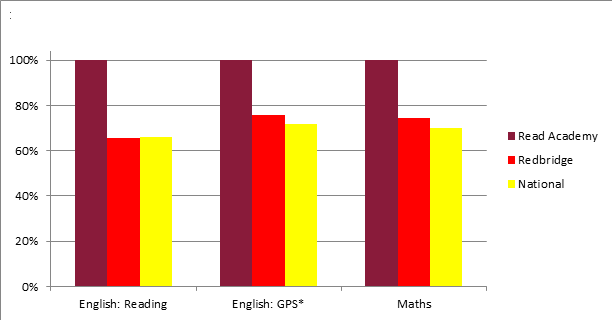 Average Scaled Score of Pupils Achieving National Expected Standard or Above in KS2 SATs marking 2016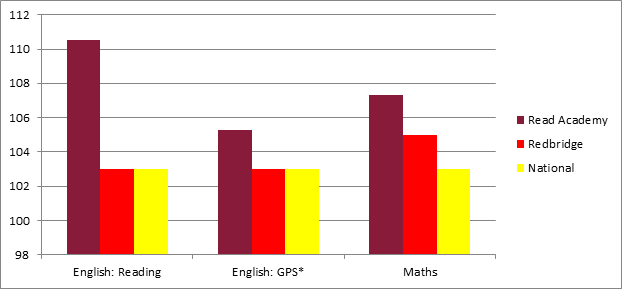 A comparison: National, Redbridge and Read Academy
| | | | |
| --- | --- | --- | --- |
| | Read Academy | Redbridge | National |
| Reading | 100 | 65.5 | 66 |
| Scaled Score | 110.5 | 103 | 103 |
| GPS | 100 | 75.9 | 72 |
| Scaled Score | 105.3 | 103 | 103 |
| Maths | 100 | 74.5 | 70 |
| Scaled Score | 107.3 | 105 | 103 |
Number of Pupils Achieving National Expected Standard or Above in KS2 SATs 2016