Read Academy PTA (RAPTA) is progressive and innovative PTA which has devised a multiform system of working with three objectives:
To build a closer school community between parents and teachers.
To strengthen and contribute to relations with the wider community we are apart of and reside in.
To raise funds for various causes and purposes.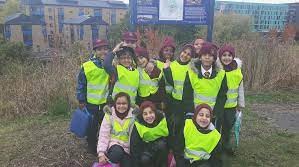 Building a closer school community between parents and teachers
We designed a revolutionary system of operation that has enabled us to ensure that every family felt represented and supported. We have achieved this through a system of Year Group Representatives. Each Year Group has a representative on the PTA. This allows each year group to discuss issues specific to them and have their suggestions and feedback addressed immediately when raised.
We also created a space for all Read Academy parents to join one group to discuss matters relating to the school and education in particular. This has helped us get to know one another and to ensure that everyone is well informed of what is happening in the school as a whole. Additionally, we created a 'Buy & Sell' group to allow families to sell, share or donate items such as uniforms, educational resources and to support local businesses for families connected to our school.
Strengthening and contributing to relations with the wider community
Read Academy PTA supports the school's ambition in creating future leaders of the community. We seek to support local charities who are doing work to help those less fortunate within our community. The PTA has partnered with a local grass roots charity to provide hot meals to the homeless in the winter months. This has become an annual event where families donate money or meals that we distribute both on the streets and within a shelter that we work alongside. This inter-faith project is something we are very proud of.
We are also fortunate enough to have a cluster of local businesses, organisations and individuals who donate, support and contribute to our events and who we also show our support by championing them on our social media.
Raising Fund
We have been able to organise a wide range of events throughout the years that have been a mix of fundraising and non-fundraising. Some of our events are designed to get families acquainted with one another such as the "Read Family Mixer" where we welcome families new and existing back to school at the beginning of the academic year.
Our main priority has always been to put on specular events which families will enjoy and remember. Our fundraising events are always conducted with a goal in mind rather than just to raise money. Previous events were to raise money for the school library, playground equipment and adaptive equipment for those with additional needs.
PTA
Our PTA has key officers in designated roles as well as a bank of volunteers and year group representatives.  The following individuals are the core members of the PTA:
Chair: Selina: Umm Salahudeen
Vice Chair/Secretary: Annie: Umm Tahaa
PR Officer: Sumayya: Umm Ayman
Décor Manager: Shahin: Umm Zoya
Treasurer: Ajieta: Umm Omar
Some examples of the work we have been doing are:
Monthly coffee mornings open to all present and past Read families.
Information workshops
Men's fitness classes
Family Mixer Event
The Annual Quiz
Ladies Pamper Evening
Food and bake sales
We believe that each and every person who is involved in our school is a member of our PTA and we encourage all to get involved and help assist our wonderful school to grow and flourish.